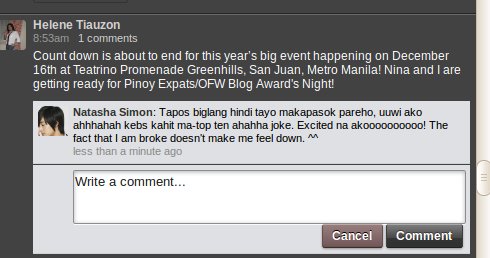 Smuch I wanted to grab all of my friends to go to the event the limited number of people that can attend made me feel shy. I actually wanted to drag my parents but it's a Thursday and the would probably go as a group of 5 plus me, too embarrassing to bring that many people.
So since she might be an OFW herself soon, (I would insist that she blog about it, but she FBs more than she blogs.) I will go to PEBA's Gala night my college unni Helene.
I still need to wash the pants Reina (The Pink Tarha) gave me. The only pair of culdoroy pants I own. I have to pray that I could look like a person in my new blouse. (Did not loose enough weight to not look like a suman.)
The fact that I might not have enough money for cab fare doesn't make me feel down. So what if I have to take a bus or a jeepney? That would just make for an even more interesting blog entry.
Win or loose, as long as I get there and meet all the cool bloggers there, then I am good.
Now, if only I knew how to get there. But my city galpal can handle that. I just need to trust that everything would go down without a hitch.
Excited na ako!!!