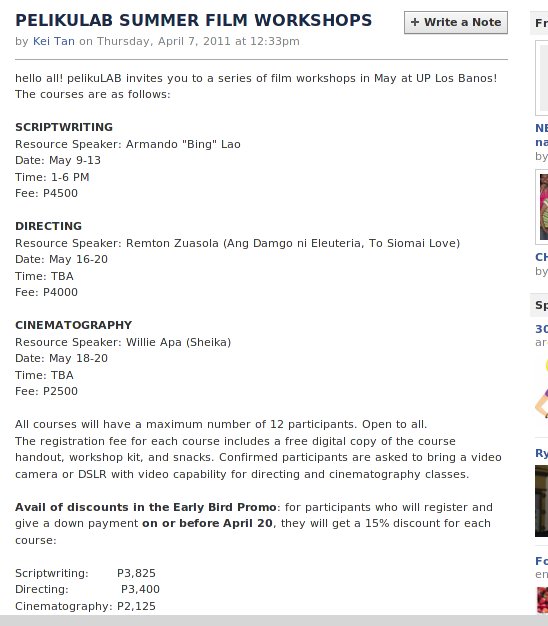 hello all! pelikuLAB invites you to a series of film workshops in May at UP Los Banos! The courses are as follows:
SCRIPTWRITING
Resource Speaker: Armando "Bing" Lao
Date: May 9-13
Time: 1-6 PM
Fee: P4500
DIRECTING
Resource Speaker: Remton Zuasola (Ang Damgo ni Eleuteria, To Siomai Love)
Date: May 16-20
Time: TBA
Fee: P4000
CINEMATOGRAPHY
Resource Speaker: Willie Apa (Sheika)
Date: May 18-20
Time: TBA
Fee: P2500
All courses will have a maximum number of 12 participants. Open to all.
The registration fee for each course includes a free digital copy of the course handout, workshop kit, and snacks. Confirmed participants are asked to bring a video camera or DSLR with video capability for directing and cinematography classes.
Avail of discounts in the Early Bird Promo
: for participants who will register and give a down payment
on or before April 20
, they will get a 15% discount for each course:
Scriptwriting: P3,825
Directing: P3,400
Cinematography: P2,125
You can avail of bigger discounts if you enroll in three courses!
For inquiries and reservations, contact pelikulab at
pelikulab@gmail.com
.