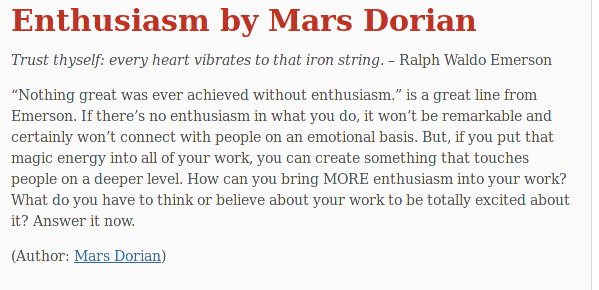 I think I need to make more time for my writing. Oddly enough although the weather is rainy (hate rainy weather) and I have a lot of students at my day-job today and glitches are everywhere. I think I work up on the right side of the bed today. I think my enthusiasm makes time pass quickly and the quality of my classes are back to my highest level. I just need to watch my time and follow some of the more basic QA points.
I think this is the me that I need to be to make my life easier. The motivated, spirited (regardless of the weather), positive me. I need to stop being emphatic. Because I think the work environment that I have drains the enthusiasm from everyone. Honestly. I need a change of pace and work situation. But that would happen once the conditions I set have happened or come to fruition. My friend say I am choosy. But I am just starting to be. Before I took whatever came at me and it didn't work out. Being in my dream job doesn't pay well so like the many others I need to enslave myself and sacrifice to make sure that my future is set in a much better tone.
I love my job now. But I set the date 7 months and 9 nine days more. I am hoping that this sense of inevitability would be like me waiting for the weekend to come. My day job will change in the future. But my career won't be in an office or a shithole. It would be in my head, in front of my laptop (i need to buy
him
a new charger as soon as I can) and in the novels that I will make and FINISH.
I know I will have two jobs all my life as foretold by some. I don't feel like it makes me perform less in the other when I do focus on the other. I think they balance each other out. The other gives me materials, the other one is the therapy that I need to survive life.
I hope my Enthusiasm bar remains in the green. I really really need to be self-motivated since the people whom I bow down to for peanuts doesn't seem to grasp the concept that enthusiastic employees are happy ones and happy ones work the best in all kinds of situations.